Straight From The Stalls
Events & Gifts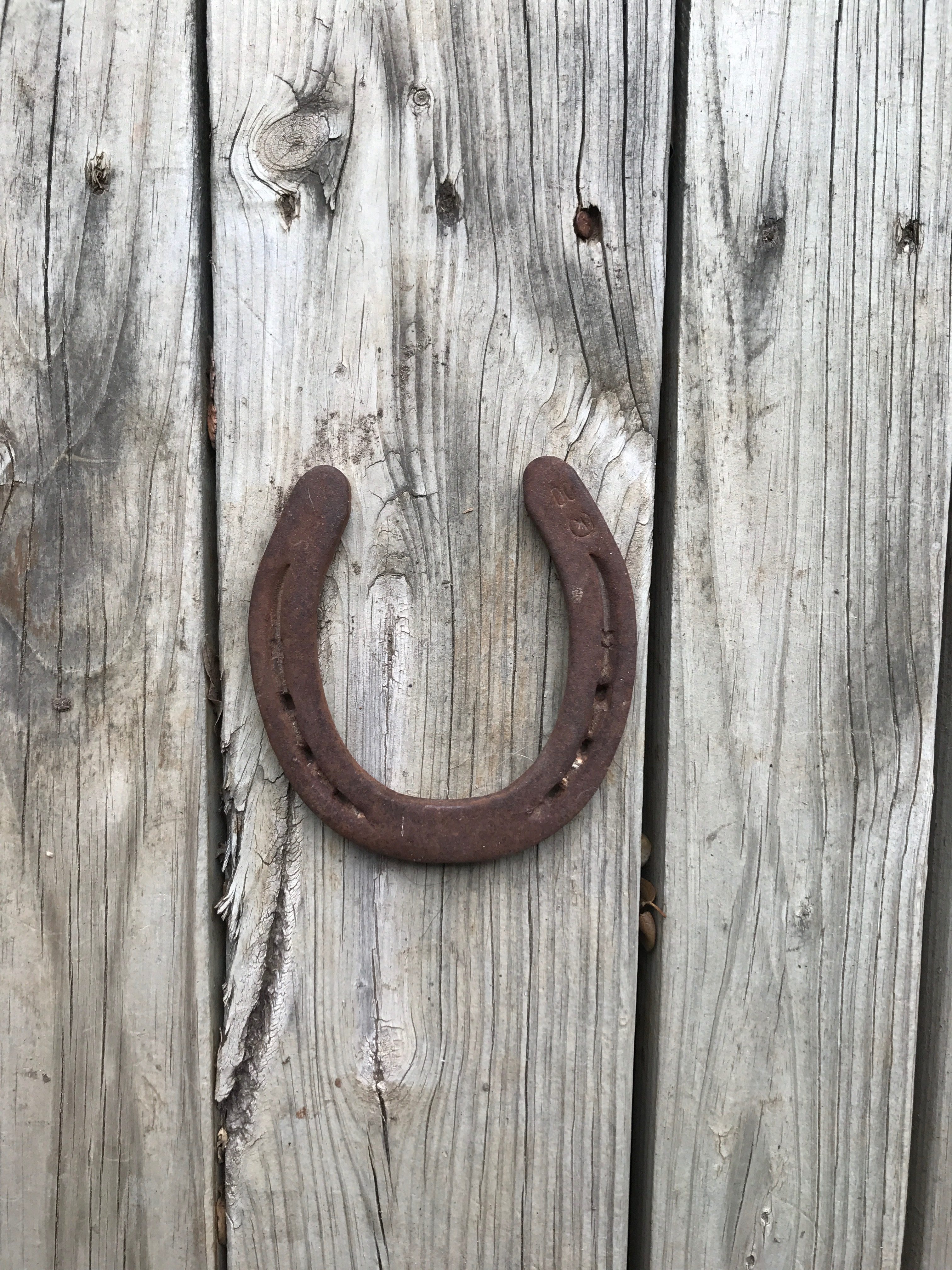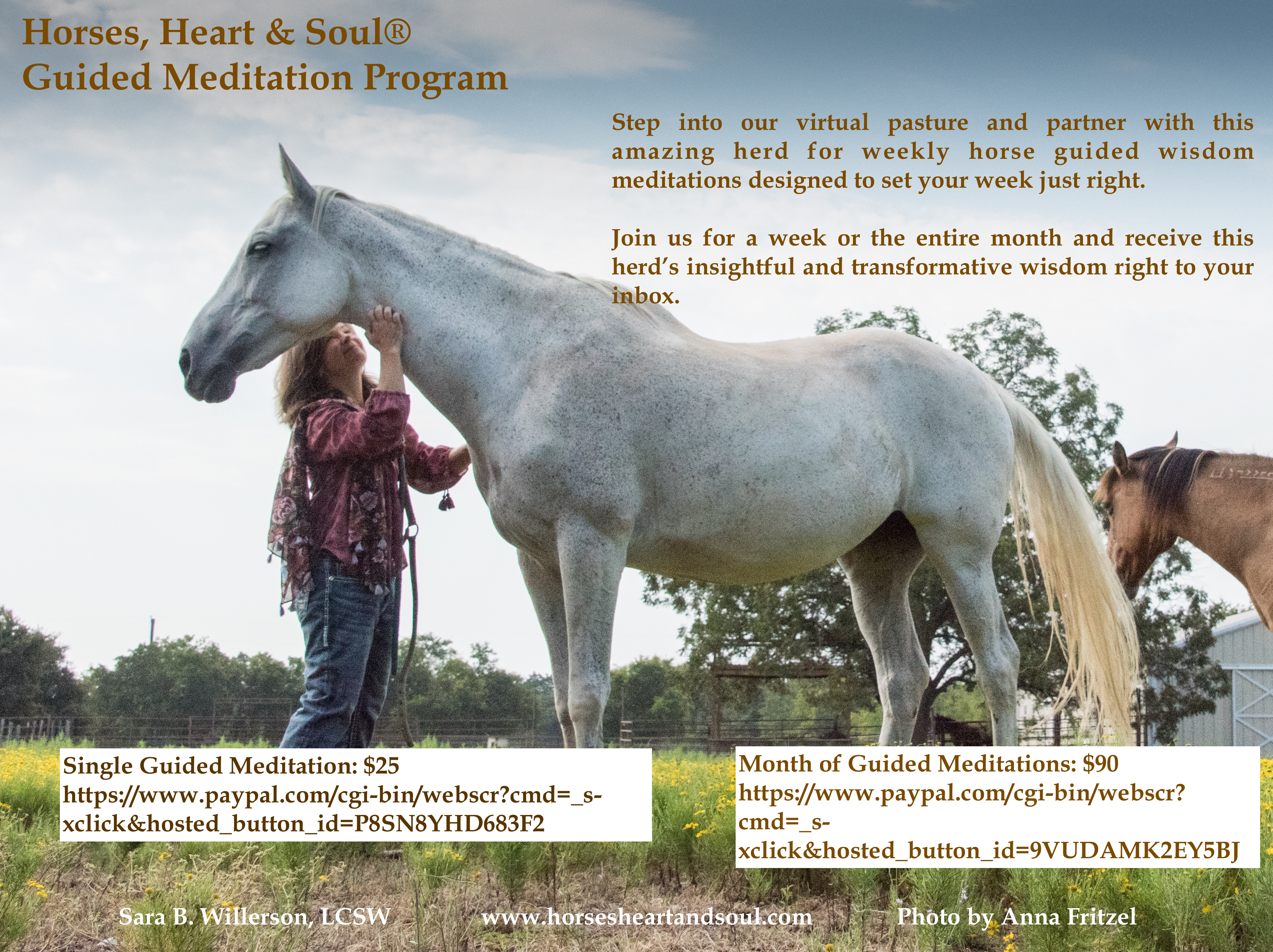 Horses, Heart & Soul® Guided Meditation Program
Step into our virtual pasture and partner with this amazing herd for weekly horse guided wisdom meditations designed to set your week just right. These video meditations will be delivered right to your inbox so you don't have travel! This is a rolling admission program so join when you like and stay as long as you want. 
Single Guided Meditation: $25       
Month of Guided Meditations (4)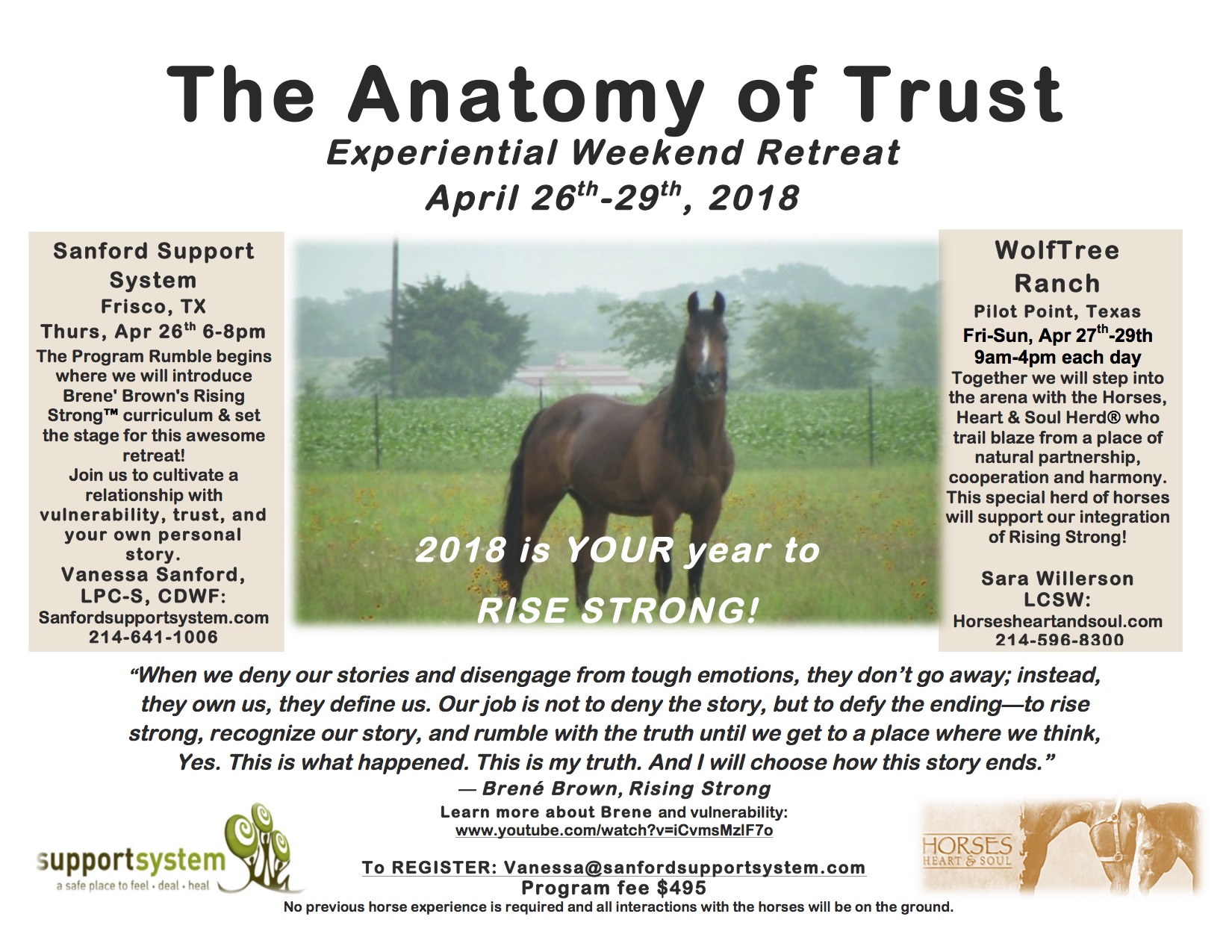 The Anatomy of Trust
April 26-29th, 2018
Do you love Brene' Brown's books?  Are you looking for a unique personal development experience? This is THE program for you!
My dear colleague Vanessa Sanford, LPC-S, CDWF & I are once again offering our collaboration between the Horses, Heart & Soul® Herd's arena based wisdom with Brene' Brown's Rising Strong™ curriculum. Join us for this incredible adventure!
Fee: $495  PayPal Link:
https://www.paypal.com/cgi-bin/webscr?cmd=_s-xclick&hosted_button_id=5TTBUN9MXF7CW
Straight From the Stalls           Horse Inspired Wisdom Journal
This journal is filled with my favorite pictures of the Horses, Heart & Soul® Herd and their profound wisdom. It is my intention that this collection is a source of creativity, dreams, and inspiration! Each photo is accompanied by a message from this magical herd. there is also space for you to add your thoughts and wisdom.
$35 + $5 (shipping/handling in U.S.) Paypal link: https://www.paypal.com/cgi-bin/webscr?cmd=_s-xclick&hosted_button_id=5SXK9QVYMPMYA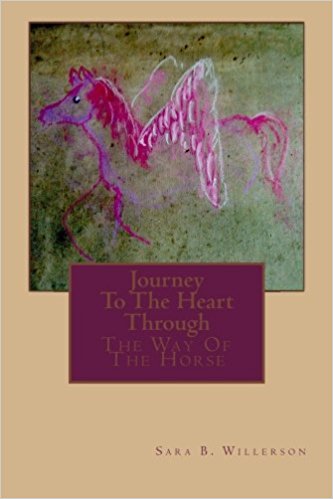 Journey To The Heart Through The Way of the Horse
Even the Horses Are Speaking… Over the last eight years, Sara Willerson has sat and listened to the messages of horses. All of this began during a transformational Shamanic event where she found herself surrounded by horses as far as she could see. They had come to her, they said, to ask her to write their story: Why horses are here and the powerful messages they wish for humankind to know at this time. Many people who have spent time around horses know the healing nature of their spirit and presence. This compilation of horse wisdom shares the underlying core message of Love. Horses are here to support us in a return to Love and care of the circle of Nature. They are here to support us in opening and expanding the human heart and soul, and the healing of generations of all beings. They are here to support the evolving human consciousness in a time of great change and transition. Even the Horses Are Speaking. Will you listen?
Available on Amazon!